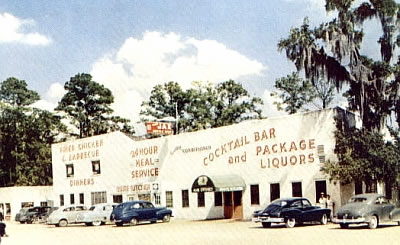 Old Postcard of the White Kitchen in Slidell - a very popular place at one time.
ATTRACTIONS


Minacapelli's Dinner Playhouse Theatre 1540 Lindberg Drive
(I-10 Service Road), Slidell, LA 70458 ph(985)781-6565
Email: reservations@minacapellis.com

The Mardi Gras MisChief Gallery 2582 Front Street
Slidell LA, 70458, ph(985) 641-0392 see one of a kind whimsical art collectible dolls of Louisiana Artist Connie Born. Artist Born has custom made creations for Universal Studios, Merv Griffin Productions, McIlhenny Company, Coca Cola and many more. Monday - Friday 10:00a.m.- 5p.m., Saturday 10a.m. to 4p.m.

Pearl River Eco-Tours, Experience a journey like no other into one of the least altered river swamps in the country with a professional native ecological tour guide. 55050 Hwy 90 - ph(985) 649-4200

>

Skydive N'Awlins Slidell, Slidell Municipal Airport, Slidell LA, 70460, ph(228) 623-1080 We offer entertainment Tandem Skydives. You can be doing freefall skydives within a half hour of arrival while you are attached to a professional skydive instructor who takes you for the thrill of your life! Email: Brenda@skydivenawlins.com

Slidell Cultural Center fosters the arts, humanities, cultural events and specific civic events in the City of Slidell, Louisiana. 444 Erlanger Street, Slidell, LA 70458, Ph: 985-646-4375, F: 985-646-4231

Slidell Little Theatre Slidell Little Theatre has enjoyed continuous steady growth with increasing maturity over the last 37 years. 2024 Nellie Drive, Slidell, Louisiana 70458 Reservations: (985) 641-0324 Theatre: (985) 643-0556

Cajun Encounters Swamp Tours, Venture deep into the untouched bayous and sloughs of the Honey Island Swamp with your native tour guide. See nesting grounds for alligators, raccoons, wild boar, deer, egrets and herons, nutria, bald eagles, owls, snakes, turtles, black bears and much more. Tours at 10 am and 2:30 pm, 55345 Hwy. 90 W., Slidell, LA, 70461 Toll Free 1-866-928-6877 - Fax 985-646-0504

The "Maize", A 6.5 acre corn field with many twists and turns cut through it to form a life-size labyrinth or "maze." 36524 Ed Yates Road open late September to early December, (985) 863-9138
LODGING


Deluxe Motel 1622 Gause Blvd. Slidell, 70458 985-641-8800 Email: deluxemotel_@bellsouth.net

Garden Guest House, 34514 Bayou Liberty Rd, Slidell, LA 70460 ph: 985-641-0335 888-255-0335 Email: bonnie@gardenbb.com

Woodridge Bed & Breakfast, 40149 Crowes Landing, Pearl River, LA 70452 ph: 985-863-9981
US toll free: 877-643-7109 fax: 985-863-0820
Email: tfotsch@aol.com

Best Western Slidell Inn, 120 Taos St, Slidell, LA 70458 ph: (985) 781-5655 Email: bestwesternslidell@hotmail.com

City Motel, 2101 Second St, Slidell, LA 70458 ph: 985-649-1156 888-505-4638 Email: moteljoe@aol.com

Comfort Inn, 2010 Old Spanish Trail
Slidell, LA 70458 ph: 985-641-4147 800-221-2222 www.comfortinn.com Email: comfort1@bellsouth.net

Days Inn, 1645 Gause Blvd, Slidell, LA 70458 ph: 985-641-3450 800-367-0961

Hampton Inn, 56460 Frank Pichon Rd, Slidell, LA 70458 ph: 985-726-9777 800-426-7866 Email: msysd01@hi-hotel.com

Holiday Inn & Suites Slidell, 372 Voters Rd., Slidell, 70461, 985-639-0890

LaQuinta Inn, 794 East I-10 Service Rd
Slidell, LA 70461, ph: 985-643-9770 800-NUROOMS

Motel 6, 136 Taos St, Slidell, LA 70458 ph: 985-649-7925 800-4MOTEL6

Pine Crest Campground, 2601 Old Spanish Trail, Slidell, LA 70461 ph: 985-649-3181 800-879-5936

Pink Panther RV Park, 2800 Old Spanish Trail, Slidell, LA 70461 ph: 985-643-6672

Ramada Inn, 798 East I-10 Service Rd, Slidell, LA 70461 ph: 985-643-9960 800-272-6232 Email: ramadads@bellsouth.net

Super 8 Motel, 1662 Gause Blvd., Slidell, LA 70458 ph: 985-641-8800 800-800-8000 www.super8.com

The Guest Lodge, 58494 Tyler Dr, Slidell, LA 70461 ph: 985-641-2153

The Salmen-Fritchie House Creole Cottage, 127 Cleveland Ave, Slidell, LA 70458 ph: 985-645-3600 Email: salmenfritchie@aol.com

Value Travel Inn, 58506 Yaupon Dr, Slidell, LA 70461 ph: 985-649-5400
EVENTS


"Brown Bag" Concert Series - Griffith Park, 333 Erlanger St. Slidell, every Fri in May, 11 am - 1 pm. (985) 646-4322

Slidell Antique Street Fair held in April & October

Slidell Heritage Festival