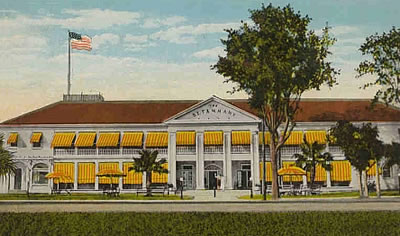 old mandeville hotel postcard
HISTORY
Mandeville was founded in 1834 by Bernard Xavier de Marigny de Mandeville (the Marigny family also owned nearly 1/3 of the city of New Orleans.) De Marigny's plantation is now beautiful Fontainebleau State Park. Bayou Castine, now the site of a many sailing enthusiasts was once the home of Choctaw Indians, whose word "caste" meant fleas, (thus Bayou Castine was originally the Bayou of Fleas.) When De Marigny developed Mandeville he advertised the lots for sale in New Orleans' newspapers, along with free steamship passage to prospective buyers. The town was not a real boom town until the late 1800's - then it became a popular tourist spot for New Orleanians. The steamship-ferry service from New Orleans continued until 1936. Many steamships featured jazz bands for the entertainment of its passengers. Rail connections through eastern St. Tammany Parish from New Orleans was another way for tourist to get to the area. When the Lake Ponchartrain Causeway was complete in 1956 it started a building boom which would make Mandeville a bedroom community for New Orleans.
ATTRACTIONS


Kickstand Bike Rental, 690 Lafitte Street, (985) 626-9300 Located across the street from the Mandeville Trailhead and the Tammany Trace, offers adventurous recreation of the Tammany Trace and the Mandeville Lakefront on Lakeshore Drive. Guided tours, group discounts. Baby seats/strollers. Email: sheilahag@yahoo.com

Fontainebleau State Park, 67825 Hwy 190E, Mandeville, LA 70448 ph: 985-624-4443 877-226-7652 Email:fntbleau@crt.state.la.us
P.O. Box 8925, Mandeville, LA 70470-8925. More than 2,700 acres on the north shore of Lake Pontchartrain. Features overnight camping, group camps, picnicking, a swimming pool and a beach area. The Tammany Trace passes through the park.(504)624-4443

Betsy Meyers-Green Jewelry Studio, 2012 Jefferson Street, Mandeville, LA 70448, (504)723-9443

Mandeville Trailhead and Cultural Interpretive Center - Located adjacent to the Tammany Trace in Old Mandeville, the Trailhead features a museum, an interactive fountain in the shape of Lake Pontchartrain, an amphitheatre and a lookout tower. 675 Lafitte Street, (985) 624-3147
LODGING


Mar Villa Guest House 2013 Claiborne Street, Mandeville, LA 70448
985-626-5975 Fully restored 1870s boarding house with two well-appointed guest rooms featuring heart pine floors, beaded wood ceilings and inviting porches, private entrances, full bath, telephones, cable TV, refrigerator
Cozy Corner Guest House, 736 Lafayette St, Mandeville, LA 70448 ph: 985-626-9189

Ozone Motel, 1902 Florida St, Mandeville, LA 70448 ph: (985) 626-7393

Pollyanna B&B, 212 Lafitte St, Mandeville, LA 70448 ph: 985-626-4053
EVENTS


Mandeville Seafood Festival Children under 10 & seniors admitted free, live music, games, rides, fireworks show, classic car show, etc.

Sunday Sunset Concert Series - An evening concert series with refreshments and seating available. Mandeville Trailhead, 675 Lafitte St. Mandeville, every second Sun 5 - 8 pm. (985) 624-3147.